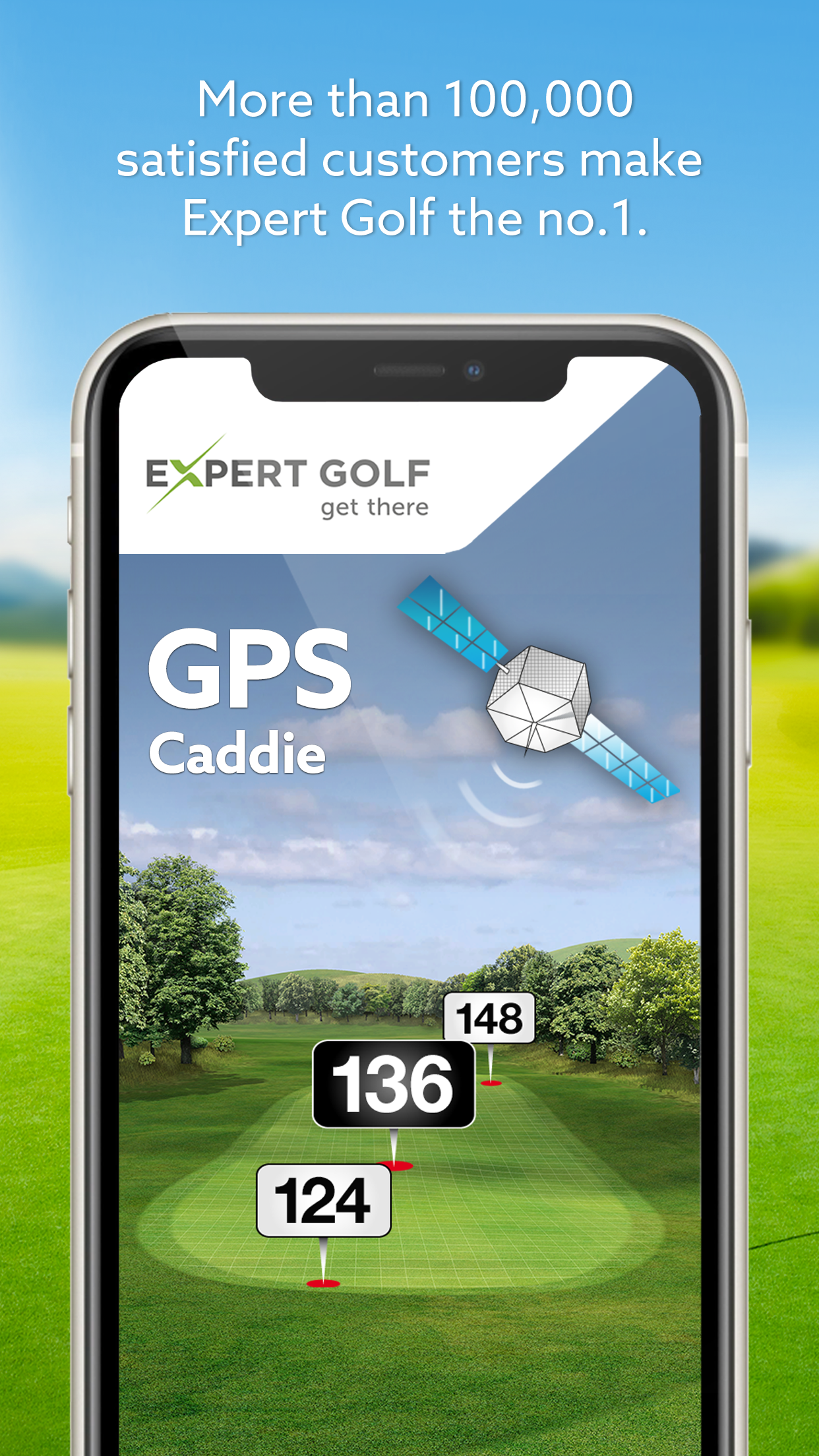 Information
Available from the iTunes App Store at a price of $ 19.99 / £ 19.99 / € 19.99 per year.*

*The annual fee covers a period of 12 months from the purchase date. (Note: Expert Golf is NOT a subscription. The annual fee will not automatically be charged again after the year has ended. You can continue to use the app without renewing the service, you will just no longer be able to download any new courses from the database.)
(Incl. unlimited course downloads. Find out why charging an annual fee is the best approach.)
GPS Caddie (Rangefinder / Distance Measuring App)
GOLF & COUNTRY wrote: "Highly-accurate data. Clever."
EXTRA GOLF wrote: "The undisputed no. 1 golf app."
GOLF JOURNAL wrote: "A real must for golfers who own an iPhone."
GOLFERS ONLY wrote: "The perfect virtual caddie. Recommendation: Buy."
On the basis of state-of-the-art GPS technology, the GPS Caddie from Expert Golf sends the exact distance to the green directly to your display – with an accuracy of 1-3 meters. You can also measure the length of your shots (e.g. drives). The distances are permanently available to be read off the display, without any user interaction (no aiming necessary and you do not have to be able to see the flag). This is facilitated by a vast database containing the GPS coordinates of the golf courses.

The accuracy of the data is of utmost importance to Expert Golf. Therefore highly-accurate data is collected in cooperation with the national surveying and topography offices and other government agencies – as opposed to most other providers whose apps are based on free aerial imagery and who thus tolerate discrepancies of tens of meters. The database is updated and extended daily. An overview of the courses already mapped is available here.


Why Expert Golf is better
User-friendly and intuitive operation (a manual is superfluous).
More precise distance information thanks to mapping by professional surveyors.
Virtually no roaming charges (no need to download aerial photos).
No network coverage required (the app only uses the free GPS signal).
No advertising pop-ups.
Database updated daily.
Support 365 days a year.
Excellent customer ratings and top rankings in the App Store.
Leading app for many years and improved with regular updates.
100% rules compliant.


Why Expert Golf charges an annual fee
Each year approximately 15% of golf courses are redesigned/ newly built or the order of their holes is changed etc. This means that the database has to be constantly maintained and updated. Only with an annual fee concept will you be guaranteed access to up-to-date and comprehensive data that you can trust on a long-term basis. Providers that only charge a once-only payment for their app will sooner or later stop maintaining their data.